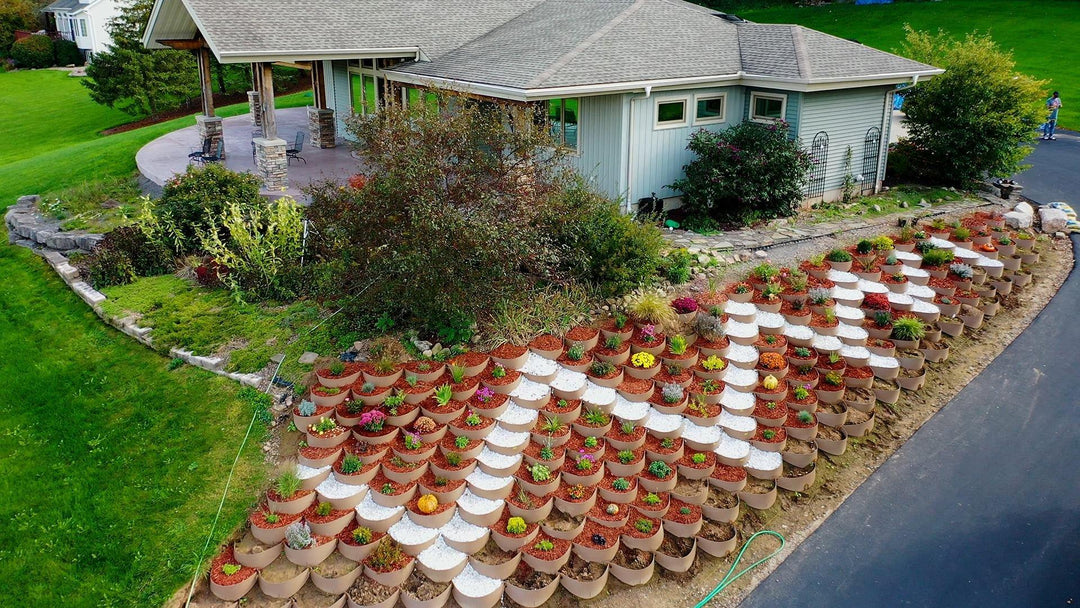 Posted on
---
Starting your own home vegetable or fruit garden is one of the most rewarding hobbies you can start! Creating your own garden allows you to be in tune with the seasons, and allows you to have fresh and organic vegetables and fruits throughout the year without ever having to leave your home! While gardening may seem like an easy task, there are a few things to take into account when starting your home garden. This article will go over a list of easy to grow vegetables at home as well as provide some insight on recommended practices for gardening at home.
Location
The first thing to know is where you are within the plant hardiness zone; you can easily find this out by looking at the map provided by the USDA 
https://planthardiness.ars.usda.gov/

You will want to have your garden space facing south, which will provide you with the most amount of sunlight throughout the day. Most vegetables need at least 6 hours minimum of sunlight in order to thrive! 

You'll want to have an area that's easily accessible and will be away from any toxic chemicals or heavy foot traffic.

You don't have to have perfectly flat ground in your backyard in order to garden like most would believe. With the Dirt Locker System, you can have a garden on any sloped area— so you have no excuse to not start your own garden!
raised bed garden vs in-ground garden
The next step is to figure out if you'll have an in-ground garden or a raised bed garden! There are pros and cons to both that we'll discuss below.
If you live in a hot and arid area, you may want to opt for an in-ground garden since it will help insulate the soil and won't dry out as fast. Whereas if you live in a climate that stays very wet and rainy, then you may opt for a raised garden bed so the soil can drain properly. Having a raised garden can have multiple pros that make it a better option than in-ground gardening for most people. Those include:
Pros of a Raised bed garden
Accessibility: Having a raised garden can be easier to access for those with back and neck problems or those who don't feel comfortable bending over as low as needed for an in-ground garden. 

Looks Better/ Aesthetics: Some people prefer the look of raised garden beds because you can completely customize them to fit your aesthetic. We love recommending the Dirt Locker System for gardening since our products are recycled HDPE plastic and are completely food safe! You can use the Dirt Locker System to completely customize the look you want to achieve!

Not permanent: This can be a huge pro for those who are renting a home or those who aren't sure how long you want to include gardening in their life as a hobby. With raised beds, you can take them down or relocate them easier than an in-ground garden

Start gardening earlier in the season: with a raised garden, you can start gardening earlier in the season since the ground won't be frozen (if you live in a colder climate) You'll be able to start gardening in early spring compared to having to wait until early summer!
Cons of a raised bed garden
Less insulation: As mentioned earlier, sometimes having a raised garden can be a con If you live in an area that is hot and arid. This will lead to your garden not staying insulated and drying out, or if you live in an area where it does get cold, you can run into issues with frost closer to the late fall and winter.

More watering: Piggybacking off of the previous con, you'll need to water your raised garden more often since there isn't as much insulation. This may not be an issue for many people, but if you don't want to be watering every day, then consider an in-ground garden!

Cost: Having a raised garden can lead to more costs since you need to source the materials in order to build your raised bed. If you are planning on doing an in-ground garden, you have the luxury of just digging into the ground without having to buy any additional supplies. If you're curious about using the Dirt Locker System, we have a great calculator feature to help you estimate the cost of supplies for your garden project!
List of Easy to Grow Vegetables
Lettuce: This is one of the easiest vegetables to grow and doesn't require too much maintenance. You can plant lettuce in early spring or fall, and they can handle a bit of cold weather (nothing below 45 degrees Fahrenheit though!)

Bell Peppers: These veggies love direct sunlight and will grow rather quickly. They don't handle cold well, so make sure you plant them once the threat of frost is gone! They'll need to be watered regularly, and fertilized just like any other vegetable within the garden, so their overall care is relatively easy!

Tomatoes: These are very similar to bell peppers, they prefer bright sun and warm weather! They will require about the same care as peppers so they make for a routine vegetable that doesn't require a lot of maintenance!

Spinach: These are easy to grow, especially with well-drained soil! Spinach is a healthy vegetable to grow that can tolerate temperatures as low as 15 degrees Fahrenheit.

Cucumbers: Cucumbers are a plant that grows directly in the ground. They have vines so make sure there's space for them to grow without casting shade on each other.
List of Easy to Grow Fruits
Blueberries: Another super easy plant to grow in your garden! They love bright sun and are easy to care for since they don't have any issues as far as insect infestations or disease is concerned. With a blueberry bush, you can harvest plenty of berries and then prune it back in the winter to get it ready for the next season!

Strawberries: Strawberries are incredibly easy to grow and you can grow them virtually anywhere! As long as they have proper drainage and get adequate sunlight, you can have delicious berries to enjoy! They're versatile and you can grow these in the ground, in containers, or even in hanging baskets!

Lemons: If you live in a warm climate, you may consider adding citrus plants like lemons to your garden! These are really easy to grow and will yield you plenty of lemons throughout the season! Since lemon trees can grow large, you'll need to make sure you have enough space for them to spread their roots and grow! They'll need about 8 hours of sunlight a day and it prefers to be watered regularly.
Regulating Pests in your garden
The most common issue that most gardeners run into is pests. While they are not always avoidable, there are plenty of tips and tricks on how to manage your garden and avoid pests as much as possible.
Find plants that are pest-resistant: While not every vegetable and fruit you'd like to grow will be pest resistant, there are some options like garlic, leeks, and onions. 
Beneficial Insects: Believe it or not, you can actually purchase insects that can help ward off invasive pests that will destroy your garden. The most common is ladybugs! They do a great job of keeping aphids and mites at bay.  Lizards and frogs can also help keep other insects from infiltrating your garden!
Pesticides/Insecticides: Most people will opt for insecticides or pesticides to help keep pests away. While this may be an easy solution,  a lot of these will contain harmful chemicals to your vegetables and even to your pets or children. An organic option would be Neem Oil as it's not as harsh as other store-bought alternatives.
Thank you for enjoying this article on easy to grow vegetables and fruits. We're so excited to share some gardening tips to inspire your next backyard project.
Dirt Locker is a sloped landscaping solution for hillside backyards that experience erosion and irrigation issues. We're on a mission to solve your sloped yard's engineering issues with our simple product! Unlike retaining walls that require permits and inspections, the Dirt Locker can get your garden dirt locked and ready to load with fresh fruits and vegetables in a matter of hours. Visit our site DirtLocker.com to see hillside transformations from a variety of steepness levels. If you have any questions about this article, contact us and we will be happy to return your email within 2 business days. Thank you for reading.
Quick links
Impact
We partner with Eden Reforestation Projects to plant 6 trees for every 10 Dirt Lockers® sold!