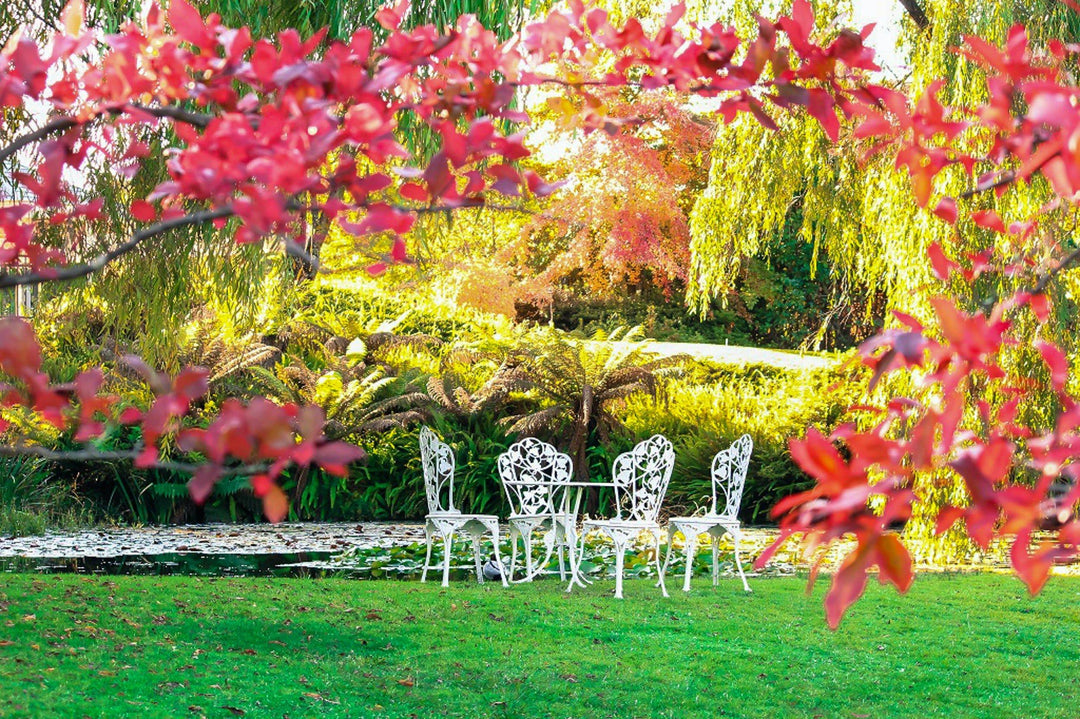 Posted on
---
If you're into gardening, landscaping, and enjoying the outdoors, you probably spend more time in your backyard seating area than in your living room! Sadly, studies from the Environmental Protection Agency (EPA) show that the average American spends only 7% of their life outdoors. We're on a mission to raise that percentage by sharing our love of landscaping design with the world. This article will give you ideas for your outdoor seating area and will give you some tips and tricks to make the most of your backyard space.
Before we get into the nuts and bolts of executing your backyard seating area, here's an outdoor seating prepping checklist:
Measure the space in your yard so know exactly how much area you are working with.

Upload the measurements into landscaping design software so you can visualize your landscape plans before starting the project.

Break your yard into sections in the landscape planning software. Decide a location for the outdoor seating area, plants, and items like a fire pit or a grill.

Count how many people you plan on hosting or lounging with at your backyard seating area so that everybody gets a seat!

Calculate the slope of your yard to see if your sloped landscaping project needs a retaining wall or a hillside terracing system like Dirt Locker.

Contact a local landscaping contractor for a professional opinion on your landscape plans.
Now that we have a prepping checklist for your backyard seating area project, let's dive into 5 examples:
1) Circle of Chairs by the Fire
The first idea for outdoor seating is a circle of chairs around a fire pit. There's nothing better than roasting marshmallows with family and friends, especially when outdoors at your home! You could incorporate natural elements like boulders and tree stumps as side tables and footrests to help set the vibe. Don't forget to bring a guitar or your favorite campfire stories!
2) Poolside Tables and Chairs Under a Wood Pergola
If you have a pool in your backyard, you likely live in a place that gets hot in the summer sunshine. One great landscape design solution is a wood pergola that casts shade on your outdoor seating area. You could even put an outdoor TV under your wood pergola to catch the game outside hanging with family and friends.
3) Backyard BBQ Grill
Backyard BBQ Grills are a great addition to your outdoor seating area. If you spend a lot of time outside in your yard, you'll get hungry often. Why go inside and dirty up the kitchen when you can enjoy the outdoor vibe with your BBQ grill? Grilling outdoors is also a great way to try new recipes and create everlasting family memories. Consider growing some herbs and vegetables in your yard so that you can toss these yummy plants on the grill with your dinner!
4) Smaller Seats for the Kids
If you have a growing family, create a "kid's corner" with smaller seats for the kids! Kids want to feel like part of the crew, so they'll be excited to hang out in their outdoor kid's corner. One idea for outdoor kids' seating is smaller versions of the adult furniture. Another idea for kids' outdoor seating is a hammock station because kids and adults could lounge on the hammocks!
5) Table and chairs by a pond or creek
The next outdoor seating idea is tables and chairs next to a pond or creek. The sound of water flowing can be soothing and relaxing. If you want to have morning coffee or evening BBQs at your table and chairs near the water, ask your local contractor if a pond or creek installation is appropriate for your yard.
Now that you have some inspiration for your outdoor seating project, be aware of these common mistakes:
5 Common Mistakes for Outdoor Seating Projects
Low-Quality Furniture: Some furniture deals may look appealing, but ensure your outdoor furniture is made of high-quality durable materials that can withstand the outdoor elements for years.

No Pest Control: If you live in an area with bugs like mosquitos and hornets, you'll want to have a pest control system like a screened-in patio.

Furniture That Absorbs Heat and Cold: If you live somewhere that gets extremely hot in the summer or freezing cold in the winter, avoid metal furniture because it could burn you or be too cold to sit on.

Grills Causing Fire Hazards: Ensure your outdoor grill is far enough away from buildings that could catch fire like a wooden pergola. Also, avoid grilling on windy days because sparks could fly and burn your nearby buildings.

Seats Under Trees With Pollen: Some trees produce pollen in the springtime which can be a mess to clean up on your outdoor seating. Avoid putting seats with fabric under these trees so you don't have to de-stein them!
Outdoor Seating Ideas for Sloped Yards
If you have a sloped landscaping project and need ideas for outdoor seating, one solution is to try breaking up the slope with a retaining wall or a hillside terracing system like Dirt Locker. Two main concerns with sloped landscaping projects are erosion control and irrigation because you don't want your wall to fail and spill dirt onto your outdoor seating area. Thankfully, your local contractor can help ensure you install the right retaining wall or hillside terracing system for your slope. If you already know the angle of your slope, plug it into the Dirt Locker estimator to get some numbers going!
Thank you for enjoying this article with ideas for your outdoor seating project. We hope this article gives you inspiration for your outdoor patio furniture and helps you avoid some of the common mistakes. If you have a photo example of your outdoor seating area, send us a photo via email so we can give you a shoutout in this article!
Dirt Locker is a sloped landscaping solution for hillside backyards that experience erosion and irrigation issues. We're on a mission to solve your sloped yard's engineering issues with our simple product! Dirt Locker can get your garden dirt locked and ready to load with fresh fruits and vegetables in a matter of hours. Visit our site DirtLocker.com to see hillside transformations from a variety of steepness levels. If you have any questions about this article, contact us and we will be happy to return your email within 2 business days. Thank you for reading!
Quick links
Impact
We partner with Eden Reforestation Projects to plant 6 trees for every 10 Dirt Lockers® sold!