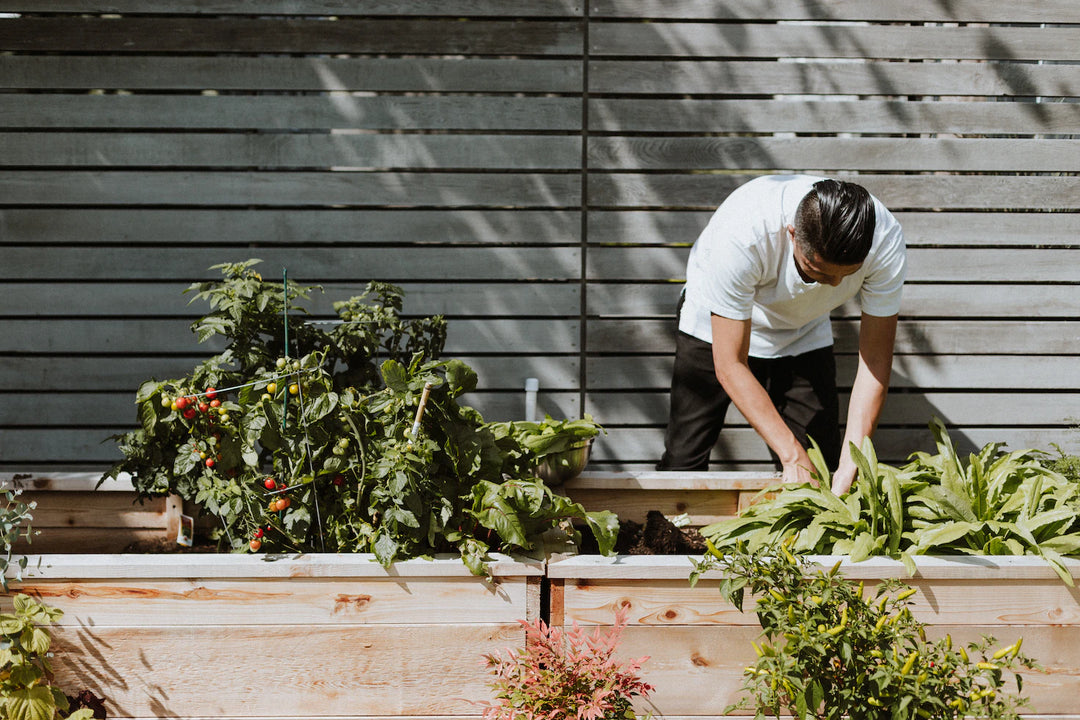 Posted on
---
Use these ten easy tips to help make your garden more environmentally friendly without spending a lot of time or money.
If you're a gardener who wants to save money and go green at the same time, then you'll love these ingenious DIY tips! We're covering all the bases here, as these hacks will help you conserve water, reduce waste, keep your plants healthy and happy, and basically help you turn your garden into a sanctuary!
So, whether you're trying to create a sustainable garden landscape or just want some simple tips for eco-friendly gardening, we've got you covered. Read on for our top 10 DIY tips for the green gardener!
Top DIY, Eco-Friendly Gardening Tips
       #1 - Collect rainwater to water your plants
One of the easiest ways to save water in your garden is to collect rainwater and use it to water your plants. 
It's simple. Place a bucket or barrel outside during a rainstorm (but you can probably just leave it out all the time), and collect the rain!
If you want something a little more capable, such as when you have a larger garden, you can always invest in a sophisticated rainwater collection system that has taps and a larger capacity.
Reuse the water to reduce your water bill and usage, and help out the environment at the same time!
       #2 - Use mulch to keep your plants healthy and hydrated
Mulch is an excellent way to keep your plants healthy and hydrated while also preventing weeds from taking over. You can find mulch made from all sorts of materials, including bark, leaves, straw, and even newspaper. Just spread a layer of mulch around your plants, and you'll be good to go!
Since you'll have fewer weeds, more energy goes into your plants. That results in less watering and less need to feed or use growth chemicals!
       #3 - Create your own compost
Compost is an excellent way to add nutrients to your soil, and it's easy to make at home! All you need is a bin or barrel, food scraps, and yard waste. Just mix everything together and let it decompose. Once it's ready, you can use it to fertilize your garden beds or potted plants.
This helps you go green because you don't need to buy compost from anywhere you'd pick it up with your car or have it delivered to your house, nor is plastic used for packaging it.
It's just reusing all the food you don't use at home and putting it back into your land!
       #4 - Plant native species
This is an important one.
One of the best ways to attract bees, butterflies, and other pollinators to your garden is to plant native species in your area. These plants are adapted to your local climate and will provide food and habitat for the animals that visit your garden. Not to mention, they're usually low-maintenance and require less water than non-native plants.
And the more diverse your garden's ecosystem, the more balanced everything will be. This means instead of getting waves of bugs that you have to use pest control chemicals to manage, you'll instead have other wildlife that is sustained off each other!
       #5 - Use recycled materials in your garden
There are all sorts of recycled materials that you can use in your garden, from tires to bottles to plastic bags. Some ideas could include the following;
Setting a bathtub into the ground as a pond
Scaring birds away with CDs on string
Watering your plants and collecting rain with plastic bottles
Decking made from wooden pallets
Bottles and boxes for seed storage
Old bits of wood as plant supports or trellis
The truth is you can get creative and see what you can find! 
       #6 - Attract birds to your garden
Hand in hand with encouraging bugs and insects into your garden, birds are also excellent garden helpers, as they eat insects to keep pests down and help spread seeds around! 
Try hanging up a bird feeder or two to attract them to your garden. You can also plant trees and shrubs that provide bird food and shelter, encouraging them to nest in your garden and stick around.
Remember, you'll need to make sure you're consistent with feeding your birds if you want them to stay! 
       #7 - Use an organic fertilizer
If you have to fertilize your plants to help them grow, then the greenest way to go about it is to use compost or manure from an organic source. You can also find organic fertilizer at your local nursery or garden center, and usually, you can order online!
       #8 - Control pests naturally
There are all kinds of natural ways to control pests in your garden that don't require harmful chemicals that can pollute the ground. Try things like companion planting to crop rotating! Just do some research and find what works best for you!
       #9 - Water early in the day
Watering early in the day helps reduce evaporation, so more of the water actually reaches the roots of your plants. Plus, it'll give your plants a chance to dry off before nightfall, which helps prevent diseases.
       #10 - Start using Dirt Lockers®
If your garden has a slope or a hill, then you already know just how frustrating this can be for all sorts of reasons. It's hard to cut the grass without rolling your mower. You can't plant anything there properly because it's awkward, and all the water drains downhill, so everything dries out quickly. 
It's a maintenance nightmare.
And it's not like you can simply dig it all away and flatten the ground. It's too expensive, a lot of work, and, most of the time, it's just not feasible.
The solution? 
Dirt Lockers®.
Dirt Lockers® is a revolutionary way to transform your slopes into beautiful landscaped flower beds and terraces. Simply install as few or as many as you like, fill them with soil, and you have a level, gorgeous-looking terraced bed to plant and transform your garden, perfect for maximizing your planting space and creating a sustainable wonderland at home.
Dirt Lockers® come in all sorts of styles and colors to match your home, and they're made from recycled materials (made from 100% HDPE plastics), so you can feel good about using them.
Plus, they're super easy to install. No more hours spent digging away at the hillside! Just click here, order your Dirt Lockers®, and be done in no time. 
We even plant an average of 10+ trees per order, and with over 67,000 planted already, this is a great way to make a big impact.
So why not go green this gardening season in the easiest way possible?
Order your Dirt Lockers® today, and transform your garden into the sanctuary you've been looking for.
The Dirt Locker® is a hillside terracing and erosion control system made in the USA from 100% recycled HDPE plastic. Together, the Dirt Lockers® and your plants become a cohesive stabilizing force, protecting your entire hillside from nature's destructive elements. As your plants increase their root structure, the hillside will increase in strength and beauty! For more information, please visit our website or contact us today! 833-MYSLOPE 
Quick links
Impact
We partner with Eden Reforestation Projects to plant 6 trees for every 10 Dirt Lockers® sold!