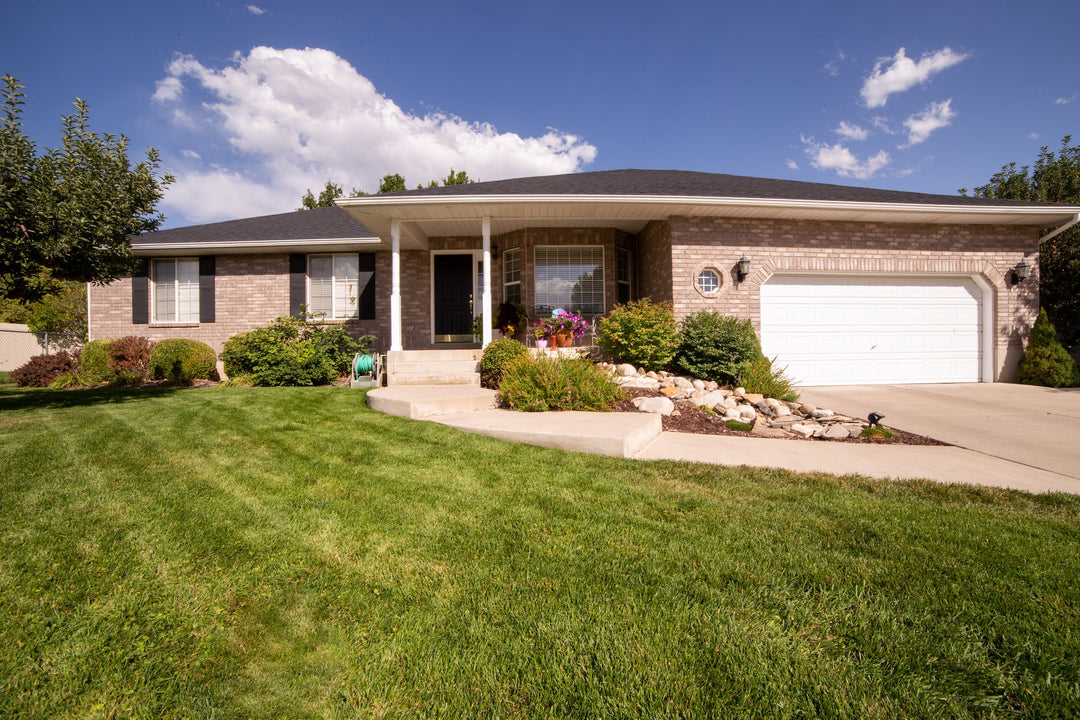 Posted on
---
Whether you're looking for more reasons to smile whenever you pull into your driveway, or you're hoping to boost the curb appeal of your house prior to selling, making a few aesthetic improvements to your home will surely do the trick. Curb appeal matters regardless of whether you're selling your home or staying put, as well-maintained homes and lawns tend to sell faster and for more money, keep burglars and thieves from targeting your home, and make you a happier homeowner overall. 
Though there are many different ways you could improve the look of your home's exterior, focusing on a few lawn and landscaping projects will create a more welcoming atmosphere while also protecting your home's foundation, benefiting the environment, and controlling soil erosion. 
Check out these five ideas from Dirt Locker® to learn how to improve the look of your home's exterior without having to paint, replace the roof or siding, or install new windows and doors. 
Article by Sarah Velasquez of ourperfectabode.com
1. Care for Your Lawn Throughout the Year
Caring for your lawn is important for many reasons: a well-maintained lawn not only looks better but also improves a home's curb appeal, supports the ecosystem, reduces the risk of flooding, and prevents noise pollution. Neglecting your lawn, however, kills curb appeal, reduces your home's value, harbors insects and other pests, and harms the environment. 
The basics of good lawn maintenance typically include regular watering, mowing, aerating, weeding, and pruning, but your specific yard maintenance schedule will depend on your climate and the size of your lawn. If you can't maintain your lawn on your own, you might consider hiring a lawn care professional to handle some of the bigger and more time-consuming tasks. 
2.
 

Plant Bushes, Shrubs & Trees

If you're looking to update your outdoor space, you may want to consider skipping the sod. While initially it may give your yard an instant grassy makeover, the reality is that it takes a lot of work and resources to keep it looking its best. Sod is known for requiring high amounts of maintenance, short roots that do not reach deep down for moisture, and large quantities of water to stay healthy. This not only makes it difficult to manage from a care perspective, but it can also be hard on your wallet - and bad news for the environment.

 

An alternative is to plant trees, shrubs, bushes and/or add a vegetable garden. This will help create much-needed oxygen through photosynthesis as well as provide more resources that require less maintenance in the long run. Adding a combination of different foundation plants, such as bushes, flowers, and shrubs, can also improve a home's exterior. Roses, hydrangeas, dwarf lilacs, lilies, and hostas are a few great choices for beautifying your front yard, or you could plant trees that boost curb appeal and create a bit more privacy.

 
3. Add a Vegetable Garden
Many homeowners choose to plant their herb and vegetable gardens in a backyard but planting a garden near the front of the home could actually help to boost curb appeal if done correctly. Plus, there are many different ways to plant a front-yard garden, from using multilevel raised beds to displaying portable planters on a porch or front patio. Homeowners should familiarize themselves with their local zoning laws, however, as some cities may have specific rules that need to be followed when planting front-yard vegetable gardens. 
4. Upgrade Your Driveway & Walkways With Help From a Landscape Designer
Redesigning your driveway and walkways can be another great way to improve the look of your home's exterior. This allows you to change the shape, size, and colors of your driveway and walkways, as well as the materials used. 
While something like redesigning your driveway will cost more than upgrading your walking paths, you can get quotes from multiple landscape designers before making a decision. Many landscaping professionals have access to landscape designer software, making it easier to connect with potential customers and provide them with accurate project estimates. The cost of redesigning your driveway will typically depend on square footage, materials used, and whether you're tearing up and removing an existing driveway or adding one from scratch.
5. Install Dirt Lockers®
If your front lawn is located on a hillside with or without a retaining wall, setting up Dirt Lockers® will improve the aesthetic of your home's exterior while also stabilizing your landscape and preventing erosion in even the harshest of climates. Dirt Locker® products make it possible to safely and beautifully add landscaping to sloped yards, and they're easy to install in just seven steps: simply order soil, install J hooks, assemble your Dirt Lockers®, place your J hooks, fill your Dirt Lockers® with soil, and add plants and irrigation. 
Come Home to the Most Beautiful Front Lawn on the Block
Whether you work with a professional landscape designer to redesign your driveway and walkways or you add new flowers, shrubs, bushes, trees, and vegetables to your front lawn, there's one thing we know for sure: you'll fall in love with your home all over again. There are many ways to improve the look of your home's exterior, but these are five of the very best. 
Dirt Locker® sells environmentally friendly hillside terracing and erosion control systems to beautify and stabilize sloped landscapes. View our collection of products or get in touch with us to learn more. 
The Dirt Locker® is a hillside terracing and erosion control system made in the USA from 100% recycled HDPE plastic. Together, the Dirt Lockers® and your plants become a cohesive stabilizing force, protecting your entire hillside from nature's destructive elements. As your plants increase their root structure, the hillside will increase in strength and beauty! For more information, please visit our website or contact us today! 833-MYSLOPE 
Quick links
Impact
We partner with Eden Reforestation Projects to plant 6 trees for every 10 Dirt Lockers® sold!