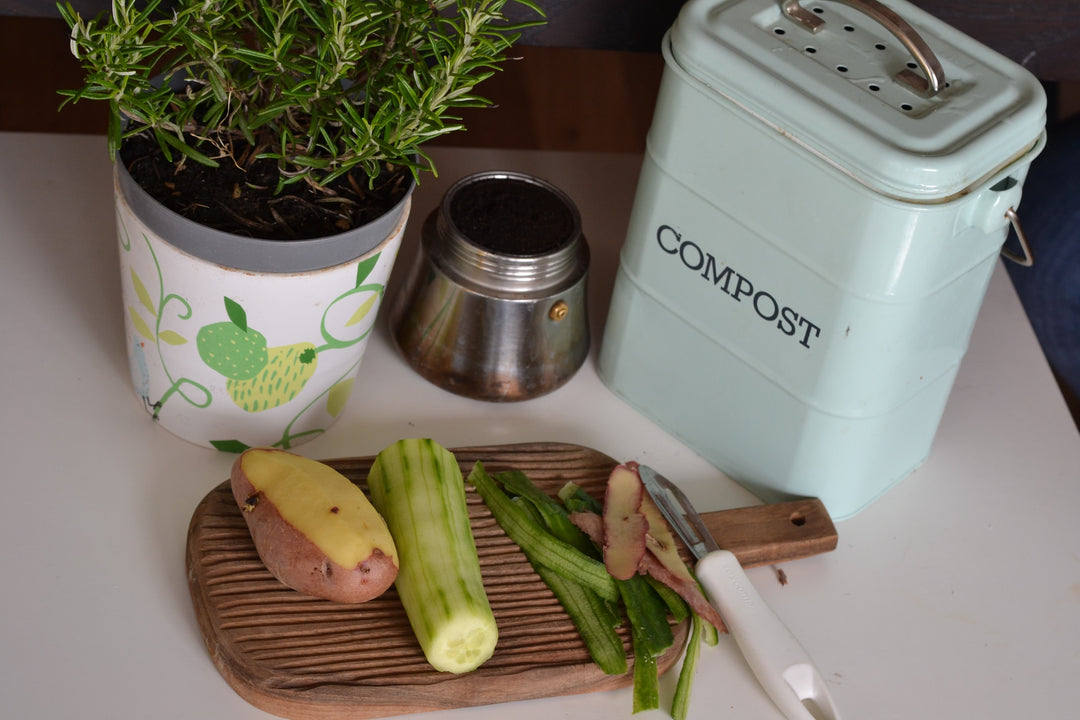 Posted on
---
If only there were a way to save the planet by reusing your waste while also helping the plants in your garden to thrive. 
Spoiler alert - there is. It's called composting. Join the other U.S. citizens who composted 25 million tons of wasted food in 2018 and reap the rewards when it comes to taking care of your plants and homegrown crops.
But why should you compost, and how can you create a composting system in your own home using your garden and food waste? We're glad you asked. Let's get into it. 
The Benefits of Composting
Ever wondered why you should compost? Here's an insight into the advantages associated with composting, both for you and the planet. 
Reduces waste
Waste is a serious contributor to pollution and climate change. When food waste rots in landfills, it releases harmful gasses into the environment. Plus, the sheer volume of litter in the U.S. pollutes our rivers, streets, and natural spaces. 
The good news is, it doesn't have to be this way. 28% of waste deposited in landfills can actually be composted, meaning we can cut more than a quarter of all waste simply by transforming it into nutrient-rich food for our soil.
In fact, in terms of environmental impact, if everybody in the U.S. composted, it would be equivalent to removing 7.8 million cars from the road.  
Improves soil quality
Compost improves soil quality in multiple ways. For one, compost helps your soil retain moisture better while also improving drainage simultaneously, thanks to the particles in the soil binding together.
Adding compost to your garden also increases the availability of nutrients to the soil by both slowly releasing nutrients as it breaks down and increasing the soil's ability to hold on to the nutrients. 
Lowers the cost of gardening
Making your own compost saves you the hundreds of dollars a year you could potentially have spent in your local garden store - especially if you have a large garden. Composting also reduces the need to use fertilizers in your garden routine, so you'll save money on garden equipment, too.  
How to Create a Compost Bin
Here's how to create a composting system of your own for your garden. 
You'll need:
A last plastic box or trash can, between 30 and 40 gallons.
A drill.
Follow these steps to turn your food and garden waste into magic plant food that your garden will love. 
Step 1: Select a Bin
First, pick a trash can or plastic box of the right size that you plan on using as your compost bin. Rinse it out thoroughly, making sure to remove any non-biodegradable materials. 
If the bin is brand new, remove any tags or labels. Your bin should also be UV tolerant and be in direct sunlight without melting.
Step 2: Drill Holes in the Bin
Take a drill to your plastic box and drill holes that are about three inches apart in rows across the length and width of your compost bin. These holes should cover all sides of the box. 
Step 3: Start Composting!
Firstly, make sure you've removed any residue from the drilling process. Once you've done that, it's time to start your compost pile!
Here are some top tips to help you get started. 
Mix wet and dry materials into your compost bin. The consistency should be damp but not soggy. 'Wet' materials include more moist matter, such as food waste, grass clippings, and vegetable scraps. These materials are high in nitrogen. High-carbon, 'dry' materials include sawdust, cardboard, dried leaves, and straw branches. The ratio should be about 60% to 40% for dry matter.

 

Avoid adding bad materials to your compost, which could ruin the mixture. Examples of no-go compost materials include meat, fat, oil, and dairy.

 

Let worms do the work for you. Worms are nature's composters, so if you see any of these little critters in your compost bin, don't remove them.
Air it out. To care for your compost heap properly, you should turn it regularly. Doing so helps to mix up and aerate your compost mix, which allows the composting process to happen more quickly.
While We're On the Subject of Healthy Soil…
We know something else that can help your soil to lock in nutrients. Our revolutionary system, Dirt Locker®, is a must if you're looking to create a hillside garden with rich soil, robust plants, and an easy-access step system. 
Interested to know more? We thought you might be! Visit our site or contact our team. 
The Dirt Locker® is a hillside terracing and erosion control system made in the USA from 100% recycled HDPE plastic. Together, the Dirt Lockers® and your plants become a cohesive stabilizing force, protecting your entire hillside from nature's destructive elements. As your plants increase their root structure, the hillside will increase in strength and beauty! For more information, please visit our website or contact us today! 833-MYSLOPE
Quick links
Impact
We partner with Eden Reforestation Projects to plant 6 trees for every 10 Dirt Lockers® sold!