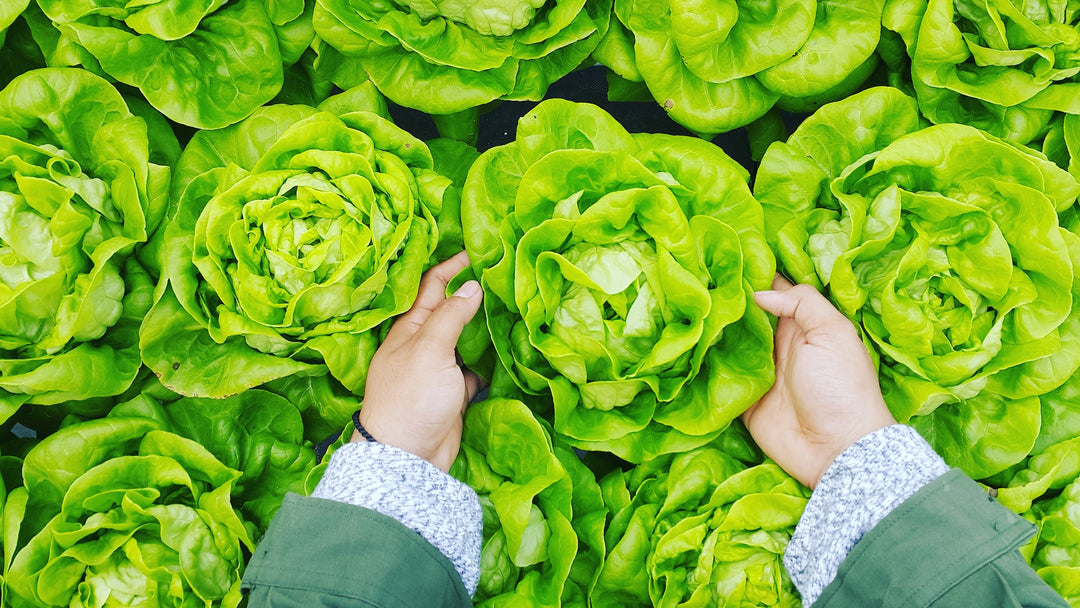 Posted on
---
There's no denying veggies are great. They're amazing for your health and make a delicious plant base for tasty, nutritious meals. 
Organic veggies are even better - some studies show that organic crops can be more nutritious than their non-organic counterparts. Plus, they're great for the environment.
But do you know what's even better than organic veggies? 
Organic veggies you grew yourself.
By growing your own crops, you can enjoy fresher, more seasonal produce while reducing your food costs and improving your gardening skills. If you're interested in eating directly from garden to table this spring, here's our foolproof guide to creating your own organic veggie patch. 
Choose a Patch
First things first, choose where your organic veggie patch will go. Select a part of your garden that gets a lot of sunlight - eight hours per day if possible. If there's no part of your garden that enjoys that much sunlight, choose the area with the most sun coverage. 
It's also important to consider how accessible the patch is. If it's difficult to reach, you'll have a tougher time looking after your plants, so choose somewhere that's easy to get to on foot. 
Create Healthy Soil
The foundation of any successful fruit and vegetable patch is nutrient-dense, healthy soil. And the key to healthy soil? Compost. 
Before you run to the supermarket to buy your compost, consider making it at home instead. Not only will you save money on compost that you would have otherwise bought, but you'll also dispose of your household waste in a much more eco-friendly way. 
All you need to create a compost pile is a carefully curated mix of cardboard and other wood as well as organic matter such as leftover veg. 
Using a no-dig and no-tilling technique in favor of mulching can help create healthier soil and keep weeds at bay, providing you with the perfect foundation for your organic veg patch. 
Select Your Fruits and Veggies
Okay, now it's time for the fun part - choosing which fruits and vegetables you want to grow. While it can be tempting just to choose your favorites, not every type of fruit or vegetable will be cut out for growing in your area. 
Instead, choose plants not only in season but also native to your region. That way, they'll be easier to look after, and you'll have a better chance of success. It's also worth looking out for naturally disease-resistant plants, especially if it's your first time creating a veg patch. 
That way, your veggie patch will be much less labor-intensive. If you're not using seedlings, you'll also need to hunt down organic plants from a supplier. You're looking for crops that have been cultivated without the use of pesticides and chemical fertilizers, resulting in a healthier garden and a healthier you. 
Not sure which plants are best suited to your area or type of garden? You can speak to professionals at a nearby garden center or farmer's market, who will be able to advise on the types of crops that will do well in your garden environment. 
Care for Your Plants in an Eco-friendly Way
Once you've planted your veggies, you'll need to care for them in a way that helps them grow without harming the planet. If you're looking to create a hillside veg garden, for example, consider investing in eco-friendly tools such as Dirt Locker®'s hillside planters. 
Made from 100% recycled materials, this system locks nutrients into the soil, reduces irrigation and saves water, and creates a series of steps allowing safe hillside access. 
Plus, HDPE (the material it's made with) is one of the few plastics approved by the FDA, so it's safe to use for growing food.
Other ways to care for your veg patch include controlling weeds with a layer of bark mulch, planting pest-repellent plants nearby your veggies to protect them from being eaten, and regularly inspecting plants for signs of damage or that they're getting too little/too much water. 
Attract Biodiversity
An organic veg patch thrives on biodiversity and lets the natural ecosystem do its thing. 
Let's take pollination, for example. You can use pollination to your advantage by attracting pollinators such as bees to your garden with a range of brightly-colored flowers that attract these flower-loving creatures. 
You can also use plants such as flowers to protect your crops by providing shelter from the elements or protection from pests. 
Creating an organic veg patch doesn't have to be ludicrously labor-intensive or time-consuming. With the right tools, veg, and approach, you'll be enjoying the (literal) fruits of your labor in no time!
The Dirt Locker® is a hillside terracing and erosion control system made in the USA from 100% recycled HDPE plastic. Together, the Dirt Lockers® and your plants become a cohesive stabilizing force, protecting your entire hillside from nature's destructive elements. As your plants increase their root structure, the hillside will increase in strength and beauty! For more information, please visit our website or contact us today! 833-MYSLOPE
Quick links
Impact
We partner with Eden Reforestation Projects to plant 6 trees for every 10 Dirt Lockers® sold!