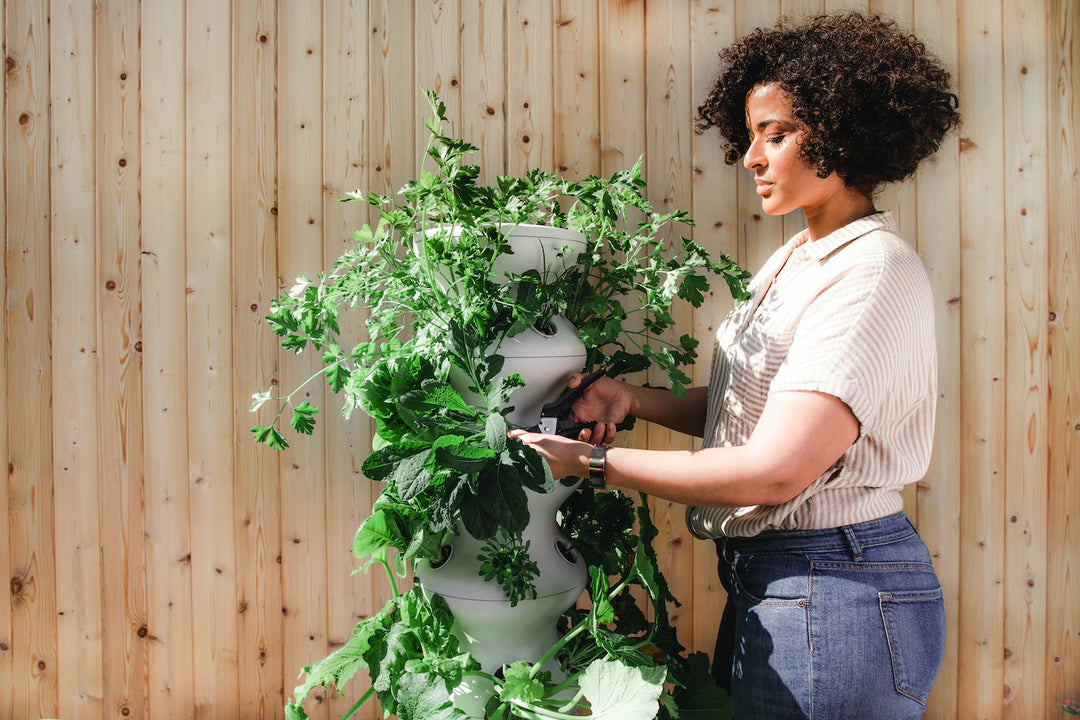 Posted on
---
Looking to green up your garden? These ten environmentally friendly gardening alternatives will help make your yard look better than ever!
If you're a gardener, you know that keeping your garden looking great can be a lot of work. But of course, it's worth it. Your garden is your sanctuary, but using chemicals, pesticides, tools, and unnatural products can be a little demoralizing.
It just doesn't sit right. It's not very… green. 
Well, what if we told you there were ways to make your garden look even better—without harming the environment? It's true! In this guide, we'll take a look at nine environmentally friendly alternatives to popular gardening techniques.
So read on, and find out how you can make your garden look amazing without harming the planet!
Top Eco-Friendly Tips for a Better-Looking Garden 
       #1 - Use Compost Instead of Fertilizer
If you're looking for an environmentally-friendly way to fertilize your garden, look no further than compost! 
Compost is made from organic matter that would otherwise end up in a landfill, so using it in your garden is a great way to reduce your environmental impact. Plus, it's great for your plants! 
Compost contains nutrients that are essential for plant growth, so using it in your garden will help your plants stay healthy and strong. You can find nutritionally rich compost basically anywhere, or you can make your own compost using a compost heap or bin!
       #2 - Use Rain Barrels to Collect Water
Water is an essential resource, and conserving it's crucial for the environment's health. Thankfully, one easy way you can do your part to conserve water is by collecting rainwater in rain barrels. 
Rain barrels are easy to set up and can save you a lot of money on your water bill! Plus, using rainwater to water your plants is better for their health, as it doesn't contain chemicals often found in tap water, like fluoride and chlorine.
       #3 - Use Mulch to Reduce Weeds
Mulch is a great way to reduce the number of weeds in your garden. Covering the ground with mulch will prevent sunlight from reaching the weed seeds, which will prevent them from germinating. 
Plus, mulch helps retain moisture in the soil, so you'll have to water your plants less often. And best of all, mulch is usually made from recycled materials, so using it in your garden is a great way to reduce your environmental impact.
This is obviously a WAY better approach than using harmful chemicals like pesticides!
       #4 - Use Insecticidal Soap Instead of Pesticides
While on the note of using pesticides, sometimes pests do get out of control, and you need to do something about it and fast. If you're in this position, then look for an environmentally friendly way to control pests in your garden, like using insecticidal soap. 
Insecticidal soap is made from natural ingredients, and it's safe for both people and pets. Plus, it's just as effective as pesticides at controlling pests!
       #5 - Use Plant Covers to Protect Plants from Pests
Plant covers are made from lightweight fabric and can be placed over plants to protect them from pests. Again, this helps reduce the need for chemicals and helps your plants grow bigger and stronger naturally.
Plus, they help to retain moisture in the soil, which means you'll have to water your plants less often.
      #6 - Let Your Lawn Grow a Little Longer
If you're looking for an environmentally friendly way to care for your lawn, try letting it grow a little longer. Longer grass is healthier for the environment, as it helps to prevent soil erosion and provides a habitat for wildlife, like helpful bugs and insects.
We know it sounds counter-productive to let bugs and insects in, especially after talking about how to keep their numbers down. However, a true garden is an ecosystem; an ecosystem with balance. This means allowing places for bugs to be, and this includes your lawn!
Plus, not cutting your grass all the time is better for your lawnmower, as it won't have as much wear and tear. And best of all, you won't have to mow as often!
       #7 - Use Companion Planting Methods
Companion planting is a great way to deter pests from your garden, and it's essential if you want a diverse garden and a healthy ecosystem. 
Planting certain plants next to each other creates a natural barrier that pests will have difficulty getting through. Plus, companion planting can help improve the health of your plants, as some plants release chemicals that are beneficial for other plants.
For example, planting garlic next to roses can help deter aphids, while planting marigolds next to tomatoes can help deter tomato hornworms.
There are many other benefits of companion planting, so if you're looking for an environmentally friendly way to control pests in your garden, give it a try!
       #8 - Feed the Birds!
One of the best ways to deter pests from your garden is by attracting birds. Birds are natural predators of many garden pests, so the more birds you have in your garden, the fewer pests you'll have to worry about. Plus, bird-watching is a fun hobby that the whole family can enjoy!
Who knows what interesting bird species you'll be able to attract!
       #9 - Start Using Dirt Lockers®
Finally, if you're on the hunt for an environmentally friendly way to landscape or terrace your garden, especially if you have a slope or a hill, you need Dirt lockers®. 
Dirt Lockers® enable you to transform sloped land in your garden into terraces, maximizing the space you have to plant and helping to turn your garden into the natural haven you've always dreamed of. 
Made from recycled materials, Dirt Lockers® are great for maximizing your planting space, keeping water in your beds, resulting in less watering, and accelerating nutrient absorbency. And, by using Dirt Lockers® over landscaping equipment, you're saving the environment.
Dirt Lockers® plant an average of ten trees per order, have removed over three million pounds of CO2 annually and recycled over one million plastic jugs when making their products.
Start using Dirt Lockers® in your garden today, and you're not only helping the environment, but you're also helping to make a difference on a global scale!
The Dirt Locker® is a hillside terracing and erosion control system made in the USA from 100% recycled HDPE plastic. Together, the Dirt Lockers® and your plants become a cohesive stabilizing force, protecting your entire hillside from nature's destructive elements. As your plants increase their root structure, the hillside will increase in strength and beauty! For more information, please visit our website or contact us today! 833-MYSLOPE 
   #10-Garden without Pesticides' (Most imrortant tip!)
Gardening without pesticides has become increasingly crucial, especially given recent concerns about products like Roundup. Preserving the health of both our gardens and ourselves requires a shift towards natural alternatives for weed and pest control. Embracing organic methods such as mulching, hand weeding, and introducing beneficial insects allows for a flourishing garden without resorting to harmful chemicals. This approach not only fosters a safer environment for your family but also mitigates the risk of unintended exposure to potentially harmful substances. In the wake of roundup lawsuits and controversies surrounding Roundup, choosing pesticide-free gardening is a responsible decision for the well-being of your garden and the planet.'
Quick links
Impact
We partner with Eden Reforestation Projects to plant 6 trees for every 10 Dirt Lockers® sold!