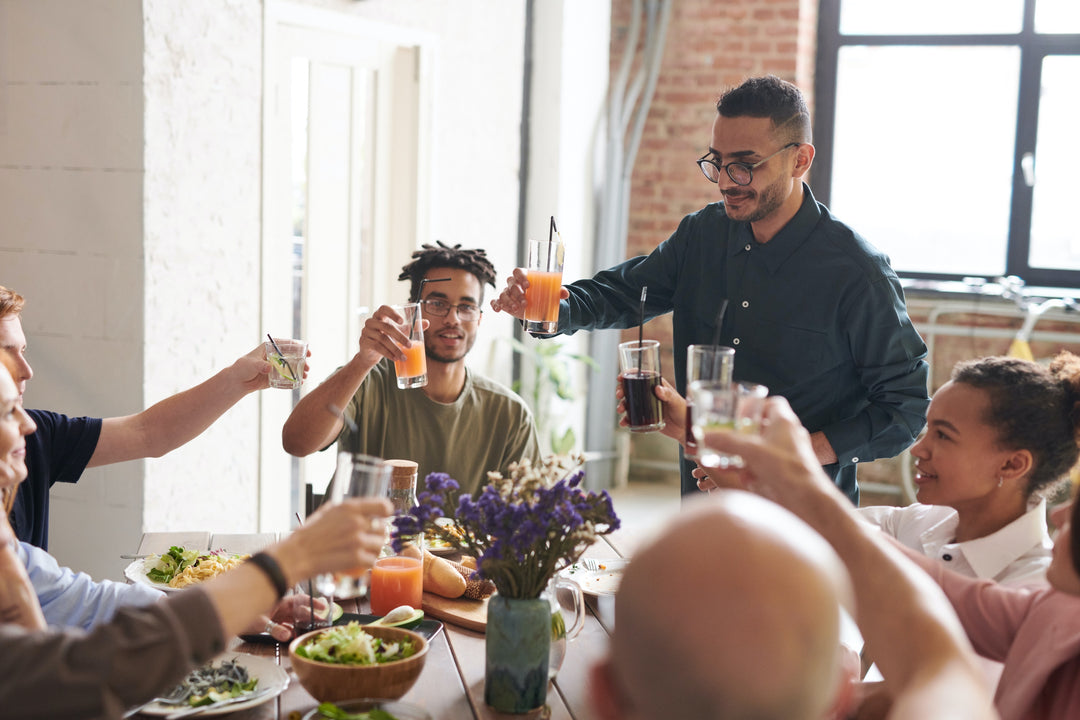 Posted on
---
The most impactful time of year to make your meals and celebrations more eco-friendly is during the holiday season. Why? The Environmental Protection Agency estimates that Americans throw away 25% more trash between Thanksgiving and New Year's Day than during the rest of the year. The extra waste adds up to about one million extra tons of trash per week, and about one-quarter of that waste is food.
By kicking off your holiday season with a sustainable, eco-friendly Thanksgiving holiday, you'll do your part to reduce consumption and waste.
Make a plan and stick to it.
Picture this: You and your family finish your heaping plates of delicious Thanksgiving favorites. You look back at your pots, pans, and serving trays to see you've hardly made a dent. There's still another whole dinner's worth of food left over. 
It's a classic dilemma. You don't want to be caught without enough to go around, so you go overboard. No matter how thoughtful you are with your leftovers, you'll still probably waste some food every year by cooking too much.
By coordinating with your guests, you can determine how much of each dish you'll need to satisfy everyone without going overboard. Use a tool like Guest-imator to determine how much you'll need to make. You can customize your estimate by number of guests, kinds of food, number of dishes, and how much each guest tends to eat.
The number one way to reduce your waste is to simply bring less food into the house at the beginning of the event.
Buy an organic or pasture-raised turkey – or skip it all together.
On Thanksgiving each year, an average of 46 million turkeys are eaten. A typical 20-pound turkey generates about 63.7 pounds of CO2, which means turkey consumption on Thanksgiving Day is responsible for 2.93 billion pounds of CO2. That's as much CO2 as the entire textile industry produces in one year.
To minimize your carbon footprint, your best option is to cut the turkey and go for an alternative. But if your entire family will revolt if you decide to go turkey-less, consider buying a turkey raised within 100 miles of your home to reduce the impact of the processing and transportation emissions. A cage-free, heritage breed, or organic turkey is another good option for reducing the environmental impact and overall quality of the meat.
Use reusable tableware, dishware, napkins, and storage containers.
The typical eco-friendly kitchen and home guidance still rings true on Thanksgiving. Reduce your plastic consumption by using reusable tableware and dishware for your Thanksgiving meal. Choose cloth napkins that can be washed and used again over paper napkins, and save your leftovers in Tupperware containers that can be reused.
Get creative with your leftovers, and use your freezer to save for later.
Finding yourself getting bored after a few days of turkey sandwiches? You're not alone. You could add your leftover turkey to a new pasta dish, a pot pie, or a soup. Turn stuffing into fried stuffing bites or stuffing soup, and incorporate mashed potatoes into breakfast classics.
In conclusion
With a few strategic changes and some smart planning, you can make your Thanksgiving holiday an eco-friendly, sustainable event. What better way to be thankful for our planet than by taking good care of it?
The Dirt Locker® is a hillside terracing and erosion control system made in the USA from 100% recycled HDPE plastic. Together, the Dirt Lockers® and your plants become a cohesive stabilizing force, protecting your entire hillside from nature's destructive elements. As your plants increase their root structure, the hillside will increase in strength and beauty! For more information, please visit our website or contact us today! 833-MYSLOPE
Quick links
Impact
We partner with Eden Reforestation Projects to plant 6 trees for every 10 Dirt Lockers® sold!