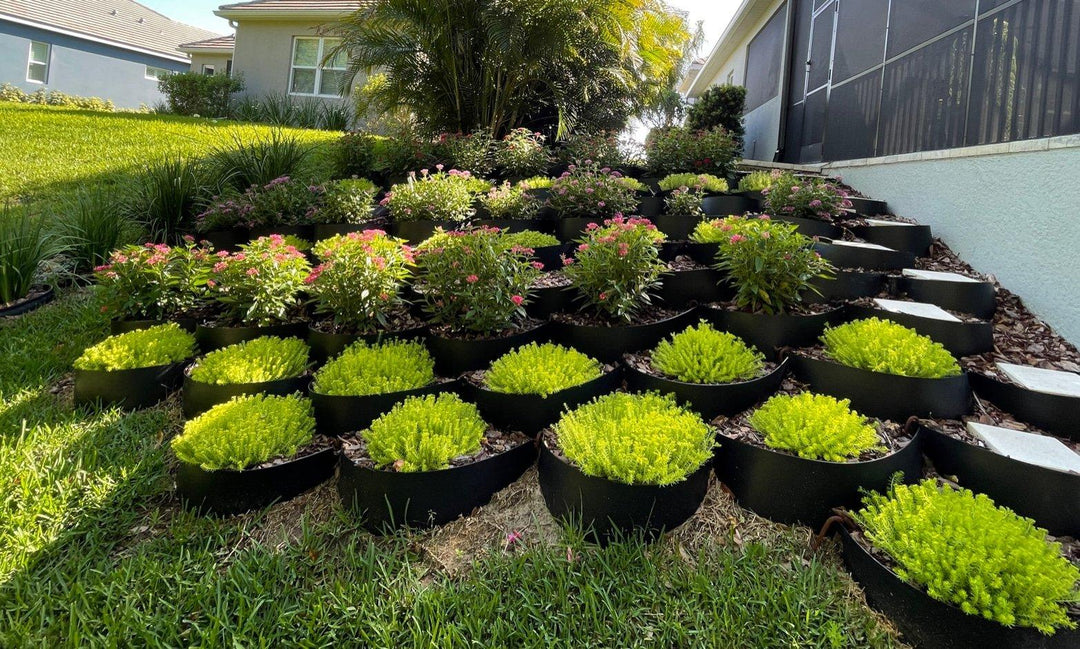 Posted on
---
Outdoor gardening with family is a great way to spend more time in nature while connecting on a deeper level with your family members.  Recent data from the annual National Gardening Survey in 2022 shows that 77% of American households are into outdoor gardening at home. This means that families across the United States are making memories in the garden! In this article, we'll discuss the benefits of outdoor gardening with family as well as some practical tips to make sure you make the most out of your family garden.
Let's get started with the top benefits of outdoor gardening with family:
Benefits of gardening with family
1) Make everlasting memories together
The first benefit of outdoor gardening with family is making everlasting memories! You can take a family photo infant of your garden each year and put them in a photo album or on your wall. You can also let each family member pick out their favorite seeds so they get excited to watch the plant grow over time. 
2) Chores for the kids
The next benefit of gardening with family (which might be your favorite) is teaching your kids responsibility by giving them gardening chores. Your kids can pick weeds once a week or water the garden every other morning to give them a sense of responsibility. You can even gamify the chores by rewarding them if they hit a 2-week or 4-week streak of doing their chores! 
3) Physical exercise
Another great benefit of outdoor gardening with family is physical exercise. Let's be real - bags of soil are NOT lightweight! Digging holes for your plants is hard work, you might even want to get the family dog involved! Moving plant pots or installing hillside planters on a sloped landscape is great physical exercise for the family.
4) Healthy eating
Some family gardens that grow outdoor vegetables, fruits, and herbs will enjoy the benefit of healthy eating. Exposing your family to healthy foods like vegetables and fruits will help ensure they live long, happy lives. Plus, if you have kids, outdoor gardening can get them excited about fruits and vegetables instead of candy!
5) Helps reduce stress and improve sleep
Studies show that spending time outdoors, eating healthy, and getting physical exercise can help reduce stress and improve sleep. Gardening with family helps you accomplish multiple tasks that contribute to a healthy lifestyle that promotes good sleep and reduces stress. Each family member can take a specific role in the garden which will give them confidence and a sense of pride. Confidence-building in the garden can help reduce stress in your day-to-day life. 
 Now that we've discussed the benefits of outdoor gardening with family, let's get into a list of ideas for your family garden:
Ideas for Outdoor Gardening With Family
1) Plant a vegetable garden
Vegetable gardens are a rewarding plant to add to the garden for one obvious reason: you can eat your crops! Some plants like tomatoes are fun to grow because your family members can snack on juicy bites right off the plant. You could let each family member pick a vegetable to put on the garden map and put them in charge. Plus, you can collaborate as a family on meal ideas since food will be on your mind while gardening!
2) Plant a fruit garden
Similar to vegetable gardens, fruit gardens are rewarding to add to your family garden project! Fruits make a perfect gardening project for families with kids because fruits go great with kid breakfasts like pancakes and French toast. Imagine getting back from family gardening in the morning and enjoying a fresh strawberry jam with your family's name on the jar! 
3) Plant an herb garden
Herb gardens are a great idea for gardening with your family, especially if you have a smaller garden because herbs don't take up as much space as fruits and vegetables. Herbs like basil grow quickly and go great on pizza or pasta! Herb gardens also smell delicious so your family will be more mindful when they stop and smell the garden!
4) Plant a flower garden
Flower gardens are a great family gardening project because flowers can add a dash of beauty to your yard aesthetic! Families who don't want to eat from their garden will find a lot of value in planting a flower garden like dealing with fewer pests who are trying to eat your hard work! 
5) Add a community garden in the front yard
A community garden in the front yard is a great way to engage with your neighbors! You can section parts of the garden to be organized or specific families in your neighborhood. Having a community garden will help you host more get-togethers with the neighbors like BBQs. 
6) Build a public library box
A public library box looks like a mailbox and holds 5-10 books for the neighbors to swap. Having a public library box in your front yard garden would be a great way to have more conversations with your community and connect with your neighbors. 
7) Make use of unused space, even the sloped landscape
If you have a hillside backyard or sloped backyard, make use of the space by installing hillside planters like Dirt Locker. Hillside planters lock dirt into place so you can plant on a sloped landscape without worrying about erosion and irrigation issues. 
Now that we've discussed the top ideas for gardening with family, let's cover a few of the most common mistakes so that you and your family members don't run into these pitfalls:
Common Mistakes for Gardening With Family
Not enough prepping: If you don't prep things in your garden like soil and irrigation, you might put a lot

Toxic plants: avoid toxic plants that might harm your family members or your pets.

Using chemical fertilizers: avoid chemical fertilizers because touching these can be a danger to young children. Plus, if you plan on eating your vegetables, you might want to consider natural fertilizers!

Trying to control everything: gardening with family is meant to be a bonding activity. Don't take it too seriously by trying to control everything. So what if some plants die, the memories are the most important part!

Planting in the wrong season: make sure that the plants you are putting in your garden will thrive in the current season!
Thanks for enjoying this article on outdoor gardening with family! We hope this inspires you to spend more time in your garden with your family members! If you have an idea for family gardening, send us an email and we'll add it to this list!

Dirt Locker is a sloped landscaping solution for hillside backyards that experience erosion and irrigation issues. We're on a mission to solve your sloped yard's engineering issues with our simple product! Dirt Locker can get your garden dirt locked and ready to load with fresh fruits and vegetables in a matter of hours. Visit our site DirtLocker.com to see hillside transformations from a variety of steepness levels. If you have any questions about this article, contact us and we will be happy to return your email within 2 business days. Thank you for reading!
Quick links
Impact
We partner with Eden Reforestation Projects to plant 6 trees for every 10 Dirt Lockers® sold!