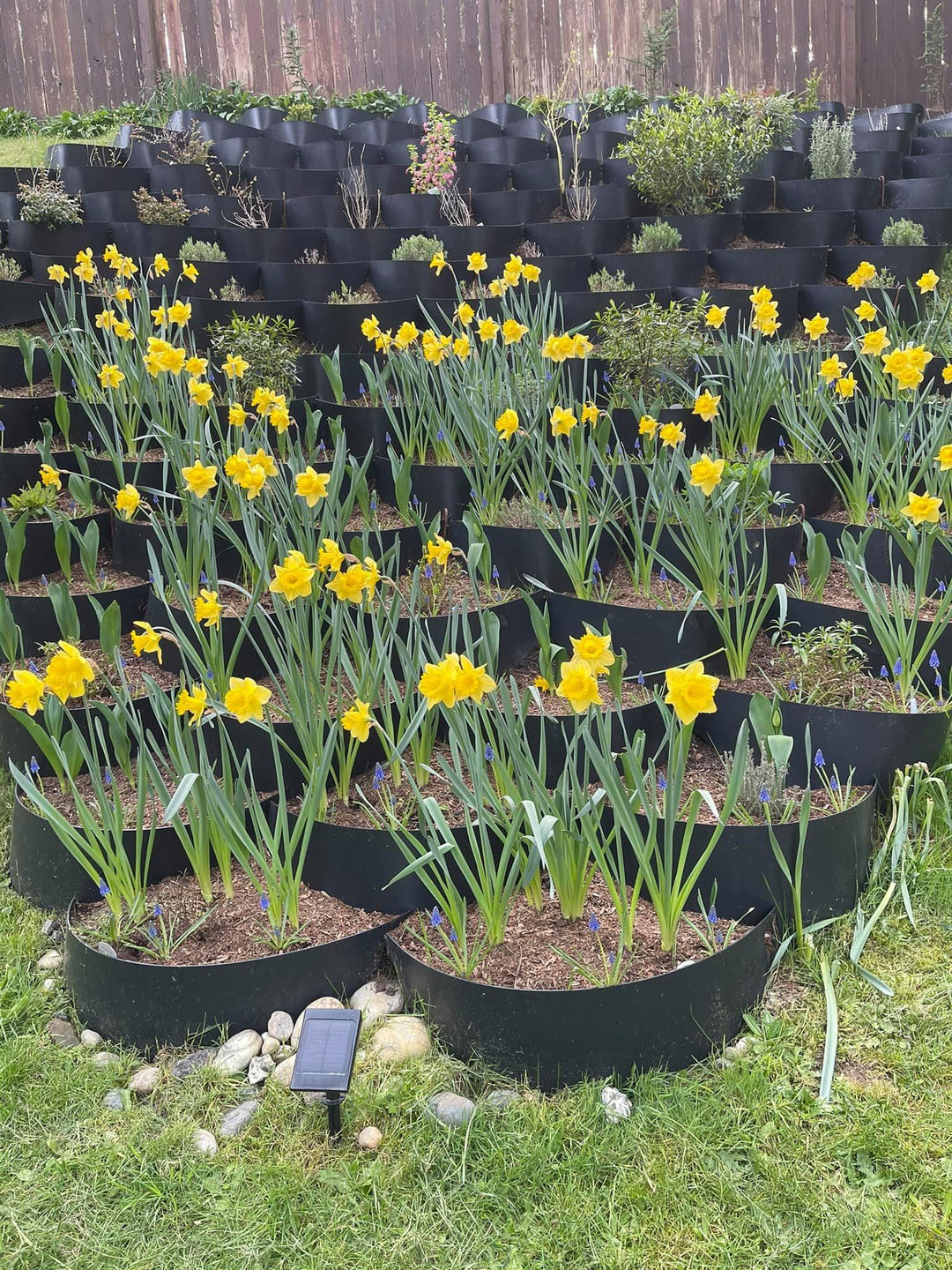 Posted on
---
March, April, and May are the best months to bring your spring gardening ideas to life! The birds are chirping, the sun is shining, and (for some of us) the snow is melting! That means it's time to swing by gardening stores like Home Depot or Lowes and plan your project! This article will give you ideas for your spring garden and give you a list of tasks to ensure your plants grow in abundance! 
Let's start with a to-do list to make sure your garden is prepped for success!
Pre-Gardening Checklist
It can be exciting when spring starts because you want to go all-out ASAP, but accomplishing the following tasks will save you time and hard-earned money:
Do a full garden inspection: Pulling weeds, cleaning up vines, and preparing your soil with feed will help you "hit the ground running" when you get back from the gardening store!

Check your tools and materials: Check your tool kit or shopping list for pruners, soil buckets, watering cans, garden forks, etc.

Plan your garden map sections: Separating your perennials from your transplant shrubs will ensure you do not destroy your perennials when swapping your transplant shrubs!

Stretch and warm-up: Stretching and warming up before gardening can help you avoid injuries. Especially with your lower back and hips!

Make a budget: Making a budget can help you keep track of your gardening expenses so that you don't spend more than needed.

Set up garden beds and planers: Organize the placement of your garden beds and planters so that you can drop and load them when you come back from the gardening store!
14 Trendy Spring Gardening Ideas
These spring gardening ideas will get you excited for your garden project! You'll be glad you read this list before running into the garden supply store:
1) Build a butterfly garden: Building a butterfly garden will attract beautiful pollinators which is great for the environment. Butterflies are an indicator of a healthy environment. If butterflies are in your garden, you have a garden that also attracts hummingbirds and bees!
2) Grow a vegetable garden: Eating fresh vegetables from your garden is a rewarding activity that gets you outdoors in the sunlight.
3) Build a comfy seating area: The best part of having a garden in the springtime is sitting outside with family and friends!
4) Organize your tools with shelves: De-clutter your gardening tools by organizing them with shelves. That way you will work more efficiently!
5) Host a plant-swap garden party: Get friends in the neighborhood connected over their love for garden plants! Hosting a plant-swap party is a fun way to gather around the backyard.
6) Install garden lights: Garden lights like market lights, fairy lights, or solar-powered pathway lights are a great way to increase the evening appeal in your garden.
7) Hang a bird feeder or a birdbath: Springtime is the time of year when baby birds are hatching, hanging a bird feeder or a birdbath is a great way to welcome the new babies!
8) Pick a color palette: Go with a specific color palette to give your garden a unique aesthetic. For example, lavenders and whites can go together to create a soft color palette.
9) Create a wheelbarrow filled with flowers: Creating a flower wheelbarrow can add a statement piece to your garden. Plus, since the wheelbarrow is on wheels, it's easy to move around your garden if you have future landscaping design plans.
10) Be your own beekeeper: Beekeeping is an adventurous gardening project for those who want to participate in environmentally friendly honey production. Beekeeping is also an economical way to make honey at home and can improve pollination for the plants in your garden.
11) Hang a flag in your garden: Hanging a flag in your garden can give you a sense of pride for your country or community. You can even have a custom flag made for your family or hang flags for different holidays.
12) Terrace the sloped landscape in your yard: If your garden is on a hillside, break the slope into garden terraces by using hillside planters like Dirt Locker. Terraces can also be made into hillside steps to help navigate around your garden.
13) Build a greenhouse: Greenhouses are controlled environments where your plants can grow without worrying about the weather. That means you'll be able to grow even in the winter! Plus, the temperature control allows you to grow a variety of plants that would not normally grow in your garden.
14) Start a living wall: Go vertical with your garden plans by starting a living wall! You can plant perennials, annuals, herbs, or even vegetables to maximize the space usage in your garden!
Thank you for enjoying this article on spring gardening ideas! We hope this list gives you some tips to feel confident before you go to the gardening store. If you have questions about the content in this article or would like to contribute a photo of your garden, shoot us an email! 
Dirt Locker is a sloped landscaping solution for hillside backyards that experience erosion and irrigation issues. We're on a mission to solve your sloped yard's engineering issues with our simple product! Dirt Locker can get your garden dirt locked and ready to load with fresh fruits and vegetables in a matter of hours. Visit our site DirtLocker.com to see hillside transformations from a variety of steepness levels. If you have any questions about this article, contact us and we will be happy to return your email within 2 business days. Thank you for reading!
Quick links
Impact
We partner with Eden Reforestation Projects to plant 6 trees for every 10 Dirt Lockers® sold!