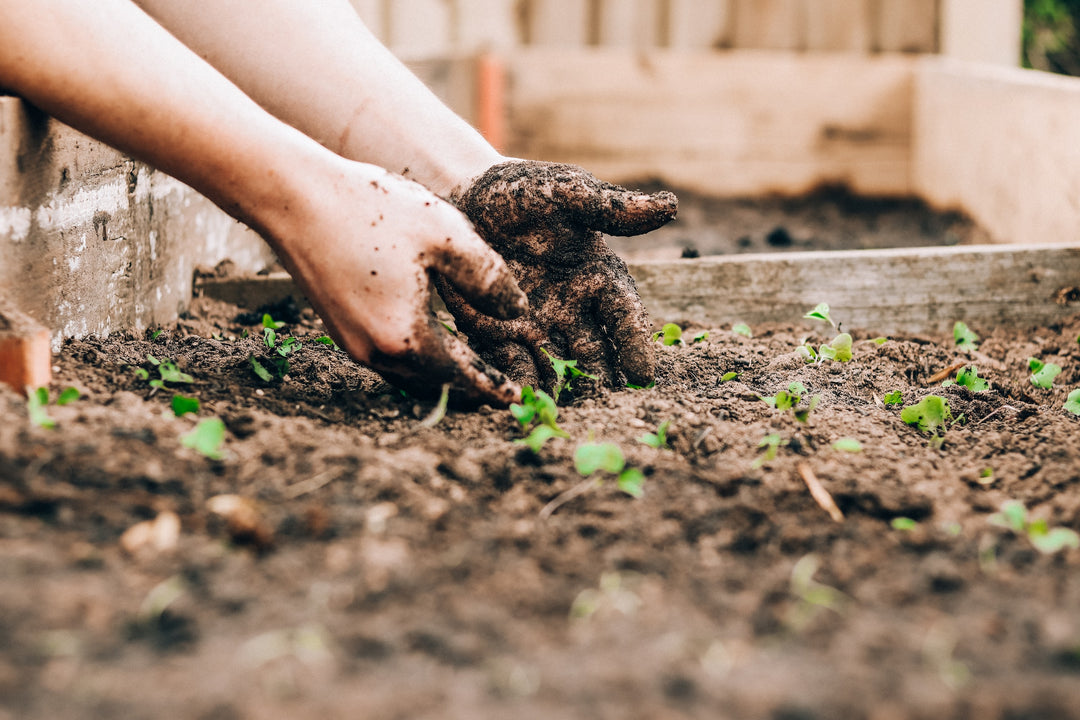 Posted on
---
Spring. It's the season of new starts, flowering trees, longer, lighter days, and (most importantly) gardening!
It's the season of re-engaging with your tools after a winter spent huddled indoors and starting to work on your outdoor space, so it's lush and inviting just in time for summer. 
But if you're one of the 55% of US households that gardens regularly, you might be concerned about how your gardening can impact the environment. 
While gardening is typically seen as having a planet-friendly impact on the environment by introducing plants that soak up carbon dioxide, some gardening techniques and chemicals have a negative effect on the natural world. 
The good news? We've put together a guide to eco-friendly gardening techniques you can use this spring 2023 for a garden that doesn't just look good but does good, too.
Use Only What You Need
Be honest. Have you ever kept a sprinkler running all day even though it wasn't really needed, or bought multiple different gardening products all in plastic containers that went straight to landfill? 
The truth is, we've all been guilty of it. But using more than you need - whether that's water or raw materials - is wasteful and bad for the planet. 
With this in mind, try swapping out your hose or sprinkler for a watering can, and switch your plastic-laden products for products like the Dirt Locker® system, which is made using 100% repurposed and recycled plastic. 
Create Your Own Compost
Compost is your garden's best friend. This nutrient-rich product supports the plants and crops you're growing in your garden while also saving you the money you would have spent by buying compost from a homeware store.
Not to mention, compost helps to sequester carbon in the soil, so it's a way to help the fight against climate change from your backyard. 
Create your own compost with a mix of food scraps, grass clippings, cardboard, and wood. The trick to getting your compost just right is an expert ratio of green to brown materials, ensuring a mix of matter rich in nitrogen and carbon. 
The best part? You'll never have to send your leftovers to landfill again. 
Adopt a No-Till Approach
While tilling your garden might seem like a must if you plan on planting crops, did you know that the practice of tilling is seriously detrimental to your garden?
Tilling destroys the natural structure of the soil, creating dense, compacted soil that's difficult to use for growing fruits and vegetables. Plus, microbes that help the soil stay healthy can die when exposed directly to the sun, while the blades of a tiller are harmful to garden wildlife. 
Worst of all, this method brings up weed seeds from deep down to the surface, so you'll have to weed more regularly to get rid of them. 
While tilling is occasionally necessary, reserve this method for once every few years and only when there's no viable alternative, and stick to the areas where you're planting. Instead, adopt a no-till approach and use mulching, compost, and crop rotation to maintain your soil's vitality. 
Go Native
Wanting a diverse garden with exotic plants worldwide is understandable and can create an attractive and unique look in your outdoor space. 
The problem is non-native plants can not only be more time-consuming to look after, but they tend to use more resources, which isn't exactly planet-friendly. 
Instead of shipping in plants from abroad or from other regions, stick to creating a garden that thrives with plants that are native to where you live. 
We guarantee you'll be surprised at how much you can do with your garden, even when you stick to plants from your region!
Use Natural Pest-Repellent Techniques
As annoying as they might be when they're chewing on your plants, insects and small animals form an important part of the ecosystem, so being as gentle as possible when keeping them away from your greenery is a must. 
Instead of spraying your plants with strong chemicals that can be harmful to your health and the planet's, try opting for plants that naturally repel insects. 
Take marigolds, for example. They emit a strong odor that greenflies and blackflies don't like, so they're perfect next to tomatoes, corn, and beans to act as a protector. 
Everything You Need for an Eco-Friendly Garden
At the heart of creating a planet-friendly garden is never using more than you need. By using 100% recycled products such as Dirt Locker®'s hillside planters, you can rest assured that you're doing your bit for the planet while also making your garden look awesome. You'll never have to compromise between the two again.  
The Dirt Locker® is a hillside terracing and erosion control system made in the USA from 100% recycled HDPE plastic. Together, the Dirt Lockers® and your plants become a cohesive stabilizing force, protecting your entire hillside from nature's destructive elements. As your plants increase their root structure, the hillside will increase in strength and beauty! For more information, please visit our website or contact us today! 833-MYSLOPE
Quick links
Impact
We partner with Eden Reforestation Projects to plant 6 trees for every 10 Dirt Lockers® sold!