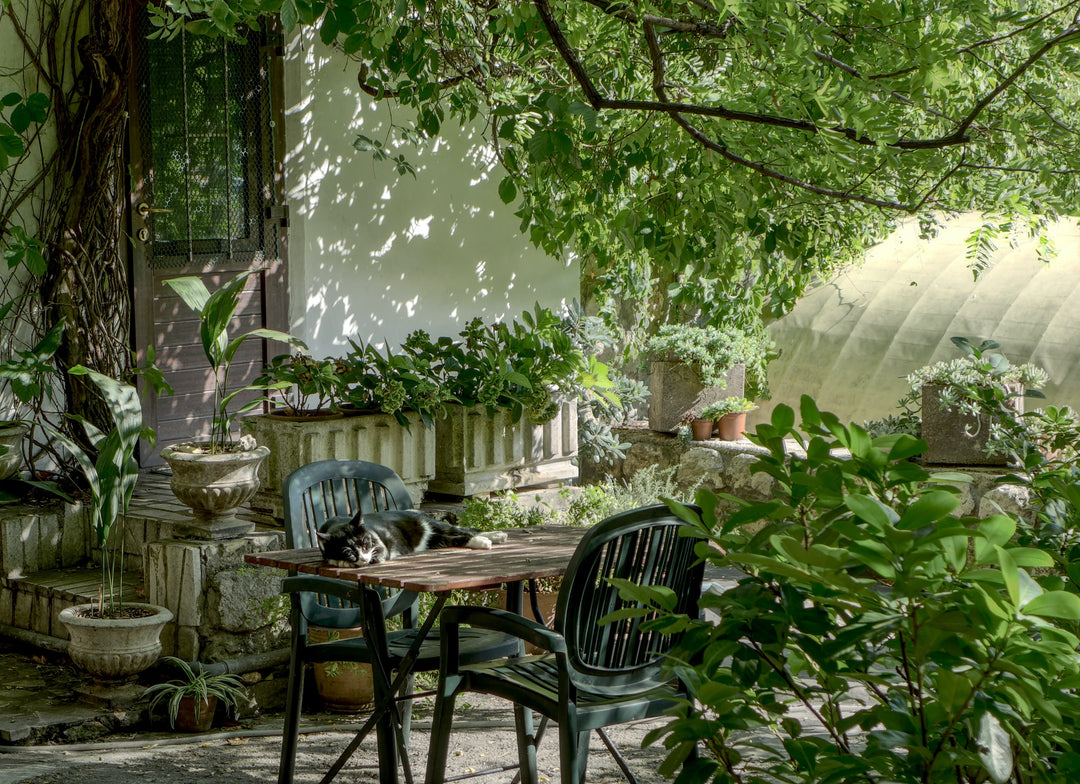 Posted on
---
Our gardens aren't just an extension of our homes. 
They're somewhere we first teach our children the joys of growing your own vegetables. Where we escape with a book on a sunny afternoon. Where we enjoy the health benefits of fresh air and vitamin D when we're feeling a little sluggish. 
With all that in mind, it's natural to want to create a little oasis or living space in your garden and to make it as aesthetically pleasing as possible. 
But there's something else to consider too. Gardens can actually have a huge (positive) impact on the environment by becoming spaces that preserve biodiversity and capture carbon dioxide from the atmosphere. 
And with 40% of ecosystems nationwide at risk, biodiversity and sustainability have never been so important. 
If you want to create a garden that's equal parts stylish and equals parts sustainable, follow our simple guide. Let's get into it. 
Get Wild
While most gardening tips will tell you how to achieve a pristine lawn (and they do look super neat and clean!), this doesn't necessarily mean a freshly-mowed lawn is always the most sustainable. 
With water shortages becoming more common and the focus moving toward biodiversity, manicured lawns are slowly falling out of favor, with many gardeners preferring to let their lawns grow out a little and let nature take its course. 
Not sure you want to leave your lawn entirely to its own devices? Planting early spring bulbs among the natural plants in your lawn can embellish your garden and boost your pollen supplies for the summer. 
Use Sustainable Garden Tools
It's not just what you plant that counts - it's what you use to plant it that matters, too. Try to avoid using excessive plastic in your spring garden, and opt instead for 100% recycled solutions such as the Dirt Locker® system.
This system allows you to create a thriving hillside garden while locking in moisture, preventing erosion, and keeping your soil healthy, all without harming the planet. 
Where possible, swap out sprinklers and hoses (which are prone to water wastage) and replace them with good ol'-fashioned watering cans. Your non-recycled plastic items can be swapped out for wooden or compostable alternatives. 
Plant Nectar-Rich Flowers
Pollinators play a huge role in keeping not just your garden but the whole ecosystem healthy. You can attract them to your garden and let them do their thing by planting brightly-colored, nectar-rich flowers. 
If boosting biodiversity is a passion, consider also installing bird feeders and other garden equipment that can be used to attract and provide food and shelter to wildlife. 
Collect Rainwater
When it comes to water, the good news is your plants, flowers, and trees aren't fussy. So with that in mind, put your rainwater to good use by collecting it and using it to water your plants, saving water and money off your energy bills. 
You can purchase a purpose-made rainwater collector such as Dirt Locker®, a water butt, or simply a large container to collect the rainwater from your downpipes. You can then use this water to keep your greenery as hydrated as possible without contributing to any drought activity. 
Use Recycled Furniture
If you're hoping to use your garden in part as an outdoor living space, you'll need some furniture. But before you hop in your car and drive yourself down to your nearest furniture store, consider a more eco-friendly alternative. 
There are a few ways to go about this - one of which is thrift and antique shopping. You'd be surprised what second-hand goodies you can get if you have an eye for style, and you'll be saving yourself some serious money as well as saving the planet. 
Alternatively, repurpose old furniture or upcycle your old, slightly shabby outdoor chairs. You'll be amazed at what can be achieved with a pot of paint and a minimal budget!
Plant Trees
Planting trees is often touted as a way we can capture more carbon from the environment and increase the planet-friendliness of our green spaces - and for good reason. 
Trees are nature's way of balancing the carbon in our atmosphere and planting one or more in your garden can seriously boost your eco credentials. 
If you live in the right region for it, consider planting a tree that also produces food, such as a lemon tree. That way, you'll also benefit from saving money and becoming more self-sufficient. 
Creating a green space in your spring garden doesn't have to be challenging or time-consuming. All you need are some eco-friendly tools, the right plants, and a mindset prioritizing keeping the planet and your family healthy. 
If you want to protect your beautiful spring garden from the elements whilst boosting your eco credentials, find out more about Dirt Locker®'s revolutionary hillside erosion control system. 
The Dirt Locker® is a hillside terracing and erosion control system made in the USA from 100% recycled HDPE plastic. Together, the Dirt Lockers® and your plants become a cohesive stabilizing force, protecting your entire hillside from nature's destructive elements. As your plants increase their root structure, the hillside will increase in strength and beauty! For more information, please visit our website or contact us today! 833-MYSLOPE
Quick links
Impact
We partner with Eden Reforestation Projects to plant 6 trees for every 10 Dirt Lockers® sold!