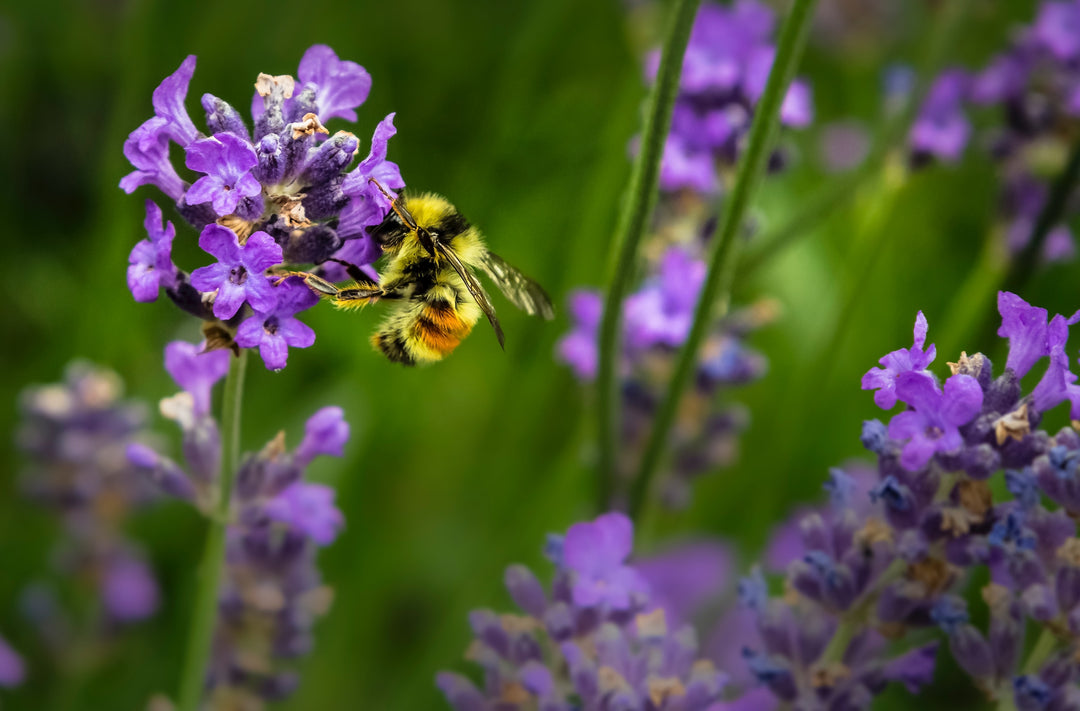 Posted on
---
While we can sometimes see bees as a little bit of a nuisance when they're buzzing around our heads, these humble pollinators are actually quite vital to our ecosystem, and, sadly, they're under threat. 
Almost 90% of wild plants and 75% of leading global crops rely on animal pollination, so if we let the bee population die out, we'll be faced with a worldwide food shortage on our hands. The good news is we can all do our bit for the planet by making our gardens as friendly as possible to our pollinating friends. Here's how.
Grow Plants With Nectar and Pollen
This one might seem obvious, but it's easily forgotten. Probably the most effective and most straightforward way to attract pollinators to your garden is to grow a range of plants that provide a continuous flowering period - this is especially important from March to September. 
It's also worth growing single flowers since some cultivators have parts that can make the pollen and nectar difficult for bees to access. 
Lock in Your Soil's Nutrients
Any gardener knows your plants thrive best when your soil is in good condition. But soil can face all sorts of issues, from receiving either too much or too little water to soil erosion. 
There are a few ways to counter this - one of which is to invest in a sprinkler system that you can automate so it produces more or less water depending on the condition of the soil. Another is to invest in an anti-soil-erosion solution, such as Dirt Locker®. 
Dirt Locker® both locks in nutrients and prevents soil erosion in one fell swoop, so you'll only need to buy one system for your desired results. 
Having healthy soil will make a huge difference to the health of your plants and how robust they are, making your garden more pollinator-friendly. 
Make Your Garden Hospitable to Bees
Look at this little bumblebutt.
Making your garden a place where bees want to spend time is key to having a pollinator-friendly garden. Now we're not saying they need a mini Starbucks and a shopping mall for bees (although, let's face it, that would be pretty cool), but with a few simple tweaks, you can make your garden somewhere that bees want to be.
Consider creating a bee hotel, for example. You can use a bee hotel to attract solitary species of bees that lay their eggs in the cavities and leave a small supply of food for the larvae to eat to grow. If you're interested in finding out how to make a bee hotel, you'll find a simple tutorial here.
Another idea is to create bee nests. Queen bumblebees are always on the hunt for places to hibernate in autumn and at the start of winter, which they'll emerge from in early spring to start a nest. You can provide Queen bees with a safe home to hibernate in by creating a nest. Here's how to create a nest for these important pollinators. 
Hold Back on Weeding
Weeds can be unattractive in your garden, and it's natural to want to pull them up to create a more polished look in your backyard. What we all too often forget, however, is that many of the plants we consider to be weeds are actually great at supporting wildlife and biodiversity. 
If you can help it, avoid removing every weed in your garden, and even consider letting nature take its course and grow wild plants in some areas. 
Help Tired Bees
It's not uncommon for bees to be negatively affected by weather that's particularly hot or cold. If you see a bee in your garden that looks a little unwell, you can help the poor fella by making a sugar solution with equal parts sugar and water. 
Place your solution near the bee's head in a small bottle cap or a small cup that the bee can access. Hopefully, it will drink the solution and be back to its best self in no time at all. 
Create a Garden in Which Nature Thrives with Dirt Locker®
The best way to boost biodiversity by attracting a range of wildlife to your garden is by making your soil and plants as healthy as possible, preventing erosion, and locking in nutrients. 
The revolutionary hillside system, Dirt Locker®, is providing gardeners nationwide with the means to create a more attractive, healthier, pollinator-friendly outdoor space by reducing irrigation, stopping erosion, and helping plants to become more robust. 
To find out more about the game-changing system, visit our site or get in touch. 
The Dirt Locker® is a hillside terracing and erosion control system made in the USA from 100% recycled HDPE plastic. Together, the Dirt Lockers® and your plants become a cohesive stabilizing force, protecting your entire hillside from nature's destructive elements. As your plants increase their root structure, the hillside will increase in strength and beauty! For more information, please visit our website or contact us today! 833-MYSLOPE
Quick links
Impact
We partner with Eden Reforestation Projects to plant 6 trees for every 10 Dirt Lockers® sold!