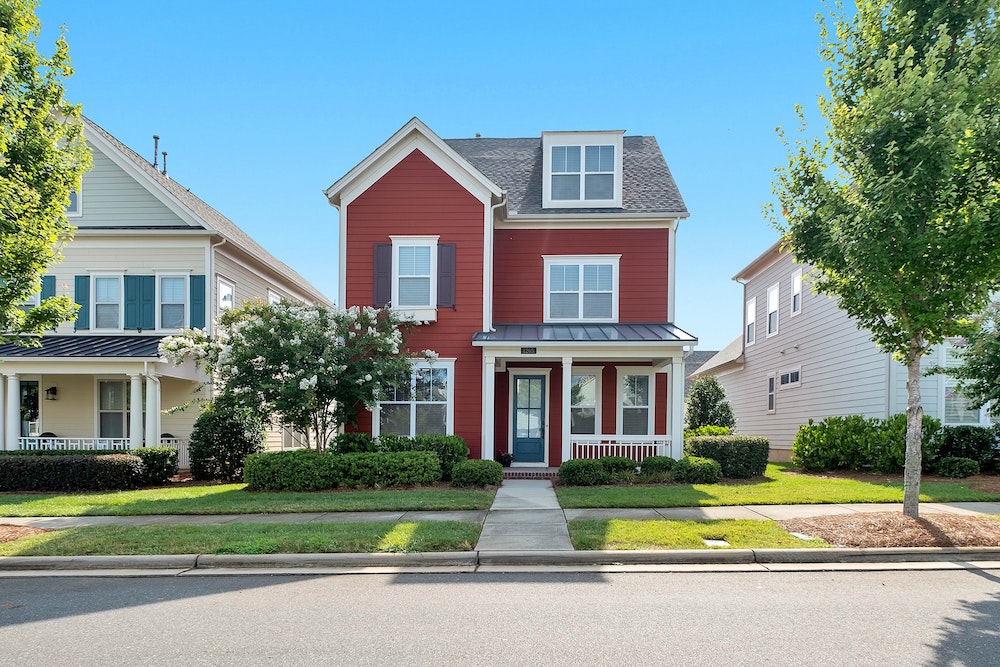 Posted on
---
Ah, curb appeal. 
While some people would say you either have it or you don't, we believe with a few strategic moves; you can turn your home's exterior into an eye-catching attraction. 
The best part? 
It doesn't have to cost a fortune. Here are eight budget-friendly tips for giving your home's curb appeal a creative boost:
#1 - Create a warm welcome with colorful flowers and plants
Probably the easiest and most effective way to make a big difference to your curb.
A few strategically placed flower pots can make a huge difference in boosting your home's curb appeal. 
Choose colors that complement the exterior of your house, and don't forget to include some evergreen shrubs for year-round greenery. The best way to do this is to have a main color for your home, then an accent color. 
This is known as the 70/20/10 rule in design, as this is how many percent of your view should be each color. To make things easy, use pots to fill your 10% quota!
As you can see in this example, we have blue/gray (70%), white (20%), and green (10%)!
#2 - Make an impression with painted shutters
For less than $50, you can add drama and depth to your home with a fresh coat of paint. Choose traditional colors like red or blue, or go bold by picking something unexpected, such as chartreuse or lavender.
It's a small touch that makes another big difference!
#3 - Spruce up the front door
So many homeowners overlook how beautiful they can make going in and out of their homes with a few simple touches to the front door.
Think of it this way, your front door acts as the focal feature of your home, with everything else spreading out around it. It's the centerpiece, so you want it to look good!
There are plenty of ways to do this, from giving it a fresh lick of paint, installing some lighting, accessorizing it, or replacing it with a fancier door completely!
#4 - Get creative with outdoor lighting
The right lighting can transform any space, including your curb. You don't have to break the bank to get something unique; look for interesting or vintage finds at flea markets and yard sales, or shop for a few fixtures online.
Just some nice outdoor lights on your porch, lining the path to your door, or even lighting up your window frames can create a stunning ambiance.
#5 - Add some character with a patterned mailbox
Okay, this one might be a little cheesy, but accessorizing your mailbox can be a lot of fun and can be an excellent space for you to inject some personality into your front-of-house aesthetic.
After all, a mailbox is usually the first thing someone notices when they come to your home, so why not make it more interesting?
There are plenty of fun and colorful options out there that can instantly brighten up the exterior of your house. Or you can spend an afternoon having some fun by redecorating your own!
#6 - Place art around the front yard
Art doesn't have to be confined to the walls of your home. An interesting sculpture or two can add a unique touch to your front porch or garden. Choose pieces that reflect your personality and taste, and switch them up from time to time for a fresh look.
Or, you could go really old-school and opt for the classic gnomes and ornaments approach if that's your style!
#7 - Install a new welcome mat
A simple doormat can go a long way in making your front porch inviting. While this only really affects your curbside when people are already at your door, it's a subtle touch and really makes a house feel like home.
Look for ones with fun patterns or designs that will make visitors smile, and you're sure to get some good conversation from them!
#8 - Invest in a few interesting planters
A couple of cleverly placed planters can provide contrast and texture to your home's exterior. Look for ones made from recycled materials, or find some creative DIY projects online that you can make yourself.
You can give your home an eye-catching facelift with a few small updates without breaking the bank. With these budget-friendly design tips, you'll be able to make a big impact on your home's curb appeal and instantly enhance its overall look.
And don't forget! 
Even just cutting your grass and keeping your driveway clean and weed-free will make a HUGE difference to the look of your home, so make sure you keep on top of it!
Happy decorating! 😊
The Dirt Locker® is a hillside terracing and erosion control system made in the USA from 100% recycled HDPE plastic. Together, the Dirt Lockers® and your plants become a cohesive stabilizing force, protecting your entire hillside from nature's destructive elements. As your plants increase their root structure, the hillside will increase in strength and beauty! For more information, please visit our website or contact us today! 833-MYSLOPE 
Quick links
Impact
We partner with Eden Reforestation Projects to plant 6 trees for every 10 Dirt Lockers® sold!