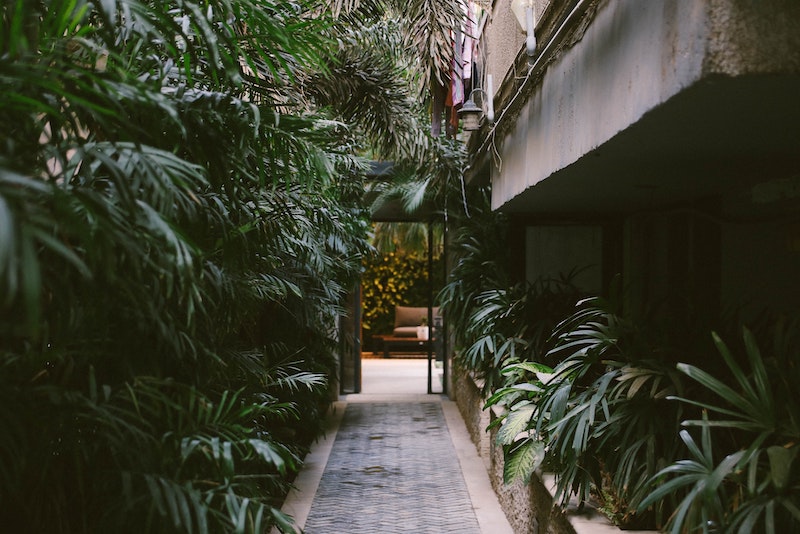 Posted on
---
Are you happy with your outdoor space?
It's a tough question, especially in the wake of spring. After being stuck inside for so long over winter, it's time to take back your outdoor space and make it a place you actually want to spend time in.
Here are eight steps you can take this year to help declutter and refresh your outdoor space:
#1. Start with a good clean sweep
Any time you do anything in your life (oh yes, we're going deep on this post), you must first take stock of where you are and what you've got. 
It's like if you're trying to live a healthier lifestyle. 
You first need to look at your life and see what you're doing and what bad habits you want to cut out. Then you can start identifying where to make changes and what habits you want to work on.
The same applies to taking care of your outdoor space.
Start by tidying your space up as best you can. This means clearing any accumulated clutter throughout the year and giving your outdoor space a thorough sweep to remove any built-up debris.
You can also weed, remove any broken paving slabs, dig up any dead plants, and basically take everything back to the bare essentials. A blank canvas ready for you to work on.
#2. Create an inviting atmosphere
With your space clear, it's time to start bringing it to life. A really easy and budget-friendly way to do this is to work on creating a positive atmosphere using lights. 
Simply hang or add some soft lighting, comfy furniture, and ambient music to create an inviting atmosphere for relaxation and entertaining friends. Even just this simple touch can make such a big difference!
#3. Add pops of color
Now, color will always be essential when refreshing any kind of space, especially in the garden. 
We recommend going shopping and looking for some lovely plants that really speak to you. And make sure you like the look of them! Go for some really bold and vibrant colors, but only get a few. These can act as your centerpieces in the garden, and you can build everything else around them.
Don't forget to test your soil first to see what you're working with and can get plants that will actually survive the soil you have! 
You can also use Dirt Lockers to create more growing space if you're dealing with some tricky terrain!
#4. Utilize vertical space
Making the most of your vertical space is all the trend right now, what with the popularity of hanging baskets and more modern features, like living walls. And who can blame people? They look stunning!
You can buy readymade living wall setups that you can simply install wherever you want, or you can build your own if you fancy a little DIY project. Use these walls to line paths, cover fences, or just create a bit of texture to an otherwise dull wall space!
#5. Incorporate unique decor
Going back to focal points, the best gardens will have a central feature in which everything else is designed. This could be something like a weather-resistant sculpture or a piece of art.
If you have a pond, then you could highlight this with paths or installing a water feature! There's not really a right or wrong answer to using unique decor in your garden.
Just consider the styles you like and find something that represents the aesthetics you love!
#6. Organize with containers
We're big fans of using containers in gardens because they come in all shapes and sizes, and you can get really creative with how you use them. And we're not just talking about creating some beautiful arrangements with potted plants.
This guide is all about decluttering your garden, so if you have a shed or a greenhouse, make this the year you get organized with labeled, waterproof containers to store small items and help keep your outdoor space organized. 
#7. Make it comfortable
As your garden grows and steps more into itself, especially after all the hard work you're putting in, don't forget to invest in comfortable furniture so you and your family can have a relaxing, enjoyable time outside.
We all know the benefits of spending more time in nature, so create a loving, calming, and peaceful space to do this and really make the most of your space!
#8. Have fun with games
Finally, why not add some recreational elements to your outdoor space, such as a fire pit or lawn games like cornhole and badminton for family fun and entertainment. It's a great way to bring the family together and create some loving memories at home!
With these eight steps, you can easily declutter and refresh your outdoor space this year, ready to start making memories with your family or simply enjoy the peace and privacy of your own backyard. 
So, what are you waiting for? 
Get decluttering and refreshing today!
The Dirt Locker® is a hillside terracing and erosion control system made in the USA from 100% recycled HDPE plastic. Together, the Dirt Lockers® and your plants become a cohesive stabilizing force, protecting your entire hillside from nature's destructive elements. As your plants increase their root structure, the hillside will increase in strength and beauty! For more information, please visit our website or contact us today! 833-MYSLOPE 
Quick links
Impact
We partner with Eden Reforestation Projects to plant 6 trees for every 10 Dirt Lockers® sold!